It's no secret that social media is where the war for consumer attention and loyalty is happening. According to Gartner, 74 percent of consumers rely on social networks for inspiration and information before making purchase decisions.
Unsurprisingly, brands have taken notice.
They're no longer just using social networks to promote their offerings with ads and posts, they're bringing the shopping experience directly to the platform with shoppable content.
Faced with competition from both individual and retail merchants, brands can boost their social commerce efforts by harnessing social posts and user-generated content with the use of visual AI. We look at the top five examples where this technology can capitalize on retail opportunities.


1. Intelligent tagging of product posts
Facebook tops all social networks for last-click social commerce, presenting an opportunity for retailers to optimise their social media posts by making them shoppable. Facebook also allows you to add tags to products from your shop or catalogue to your photos and videos.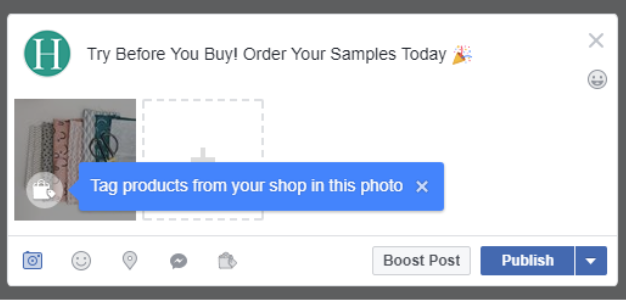 It's in this area that intelligent product tagging is becoming a game changer, automatically connecting posts to a company's catalogue. For example, this technology can analyse an image with a man wearing a specific shirt and visually match it with a product in your store or online catalogue, increasing its visibility to potential consumers.
2. Getting on board social media check-out features

Instagram now allows users to complete a purchase without even leaving the social network. Top brands, such as Nike and Prada, are the first to try out this checkout feature, which is estimated to contribute US$10 billion to Facebook's annual revenue by 2021.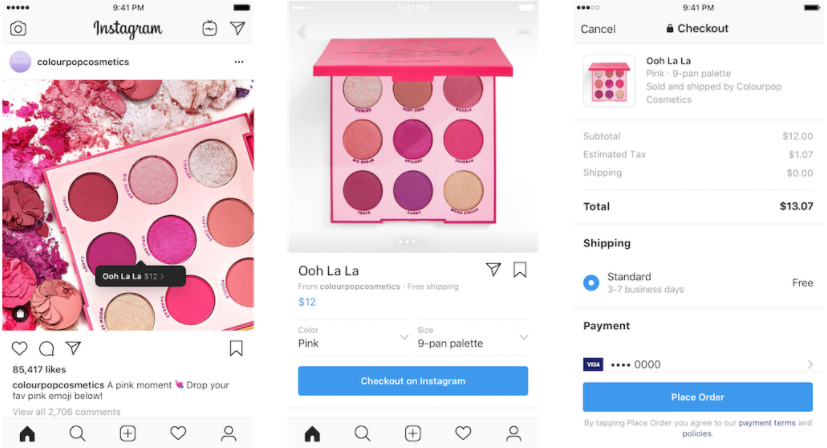 As Instagram has more than 500 million daily active users, it presents brands with a large pool of potential consumers from all over the world. No longer it is just a channel for marketing and advertising—it can now become an extension of your online store. It also shortens the purchase process by allowing users to discover a new product, click on it, see its retail page, add it to their shopping cart, and pay for it, all within a single social media platform.
3. Integrating shoppable images into articles

magine reading an article in a digital magazine and being able to "Shop this story" or "Shop this look," instantly adding a featured product to your shopping cart.
This is the opportunity that awaits retailers that use computer vision and visual search, allowing them to take images featured in blog posts, articles, and other editorial content and make them shoppable. It effectively solves one of the biggest flaws of lifestyle publications—the gap between product discovery and 'shopability'.
While digital and print magazines are a powerful visual medium for showing products in action, readers still have to Google items or click on individual links to find these products on e-commerce sites. Shoppable images in editorial content, on the other hand, directly add the ability to shop the content itself.
Want to know how visual search can drive ROI for your business?



4. Integrate chatbots, social messaging, and visual search
When ASOS rolled out its Enki chatbot, it didn't just provide consumers with a new customer service feature. It enabled its chatbot to essentially become a shopping assistant using a visual search tool, which it calls Style Match.
With Style Match, users can send Enki a photo of a product they like. Enki then searches for the exact item—or at least something very similar—on ASOS' product catalogue, and recommends it to the customer.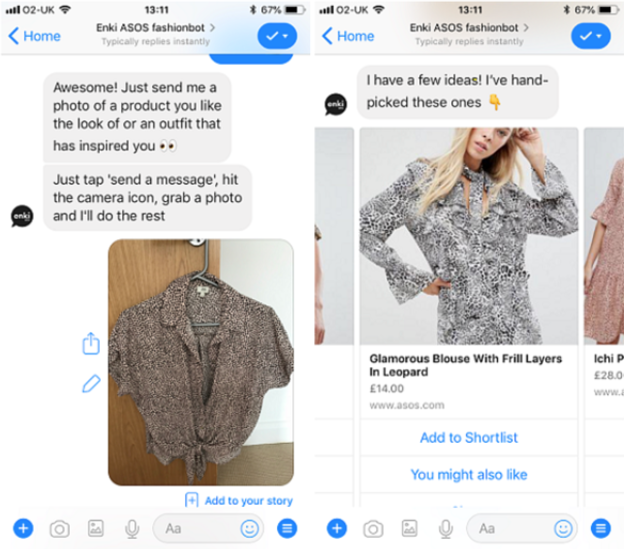 As Enki is deployed on Facebook Messenger, it enables ASOS to increase customer conversion on social media. It leverages Facebook's wide user network and the convenience and ubiquity of social messaging to deliver visual search features to shoppers.
5. Optimize social media ads using visually similar product recommendations
Visual AI also makes it easier to upsell or remarket products that are visually similar to ads or products users have previously clicked, shared, or purchased.
This has the potential to be a game-changer for remarketing/retargeting, as the right visual in the proper context can be the key to converting warm leads into customers. With 96 percent of first-time website visitors not ready to make a purchase decision, remarketing with a visually relevant ad could be the key to improving your conversion rate on social media.
Social commerce points to a future of shoppable social media
The rise of social commerce comes at a time when social media platforms are increasingly leaning towards visual content. On Facebook, images get 2.3x more engagement than regular posts. Instagram alone sees more than 100 million photos uploaded every day—in 2018, and that number is likely rising by the day.
In other words, social media is becoming a predominantly visual medium. Brands and retailers hoping to leverage social commerce can get ahead by using visual AI technology to create a simpler and faster shopping experience for their followers. Traditional social media marketing strategies, such as simple boosted posts, will no longer suffice, not when everyone else is doing it.
The key is to reduce the number of steps between social media product discovery and the point of purchase. The five strategies above are designed to shorten the buyer's journey, increasing product visibility and sales on social media as a result.
FAQ's
Question:- What does a social media check-out feature entail?
Answer:- Nearly every major social platform has integrated the checkout feature. Within this, the platform allows its users to set up a storefront. The entire shopping process is thus contained on the social platform itself, removing the need for the customer to ever leave the platform.
Question:- What is shoppable content?
Answer:- Shoppable content includes anything digital that a potential customer can click to make an instant purchase. This can include an advertisement, image, video, or social media post. Its benefits include increased brand sales and customer loyalty, better customer experience, and a boost in conversions.
Question:- What does visual AI technology mean?
Answer:- Visual artificial intelligence technology is the ability to view images in the same way as humans would and make related and similar associations. For retailers, visual AI technology can help retailers optimize customer experience, and conversions, drive upsell, inventory management, merchandising, business insights, and so much more.
If you're interested in exploring how visual search can enhance your customer's shopping experience both through social and beyond, get a free trial with ViSenze today.