Visual is transforming digital commerce as we know it.
Brands have been using visual search to improve the online shopping experience through new features like Search By Image, Visually Similar Recommendations, and Shop The Look. This is especially prominent in the visually stimulating realm of fashion and home decor.
H&M, for example, uses visual search to recommend similar items from their online catalog based on users' real-life inspirations.
These applications have been extremely successful, with brands reporting improved conversion rates and user engagement since implementing visual search. But that's just scratching the surface. As technology continues to advance, retailers are beginning to open their eyes to the possibilities, so to speak. In particular, two exciting areas of technology are enhancing visual search's capacity to bridge the online and offline shopping experience: Augmented Reality (AR) and the Internet of Things (IoT).


Enriching the online/offline experience
The consumer decision journey isn't as simple as it once was. Users are now finding their way to brands through several touchpoints, so it's important that marketers use an omnichannel strategy to reach their customers.
In this day and age, that means combining the best of online and offline in order to provide the best shopping experience possible.
Augmented reality
Augmented Reality might be easier to understand in comparison to its close cousin, Virtual Reality (VR). Where the latter is an immersive experience, AR can be understood as a kind of digital output or visual information superimposed into reality. Think: Pokemon Go.
Visual search is tied to AR because this technology focuses on connecting the physical and digital worlds. In fact, visual search is sometimes dubbed as "augmented reality search".
Certain items, for example, require shoppers to try them on first. But this can be a tedious task if the physical store is too far or a hassle to travel to. Enter AR.
With AR technology, users can 'try on' items before they purchase them—similar to the experience of shopping at a physical store, but in the comfort of their own homes. A brand that does this well is Specsavers.
The London-based optical shop came up with their Virtual Try On app, which let users scan their faces through a desktop, tablet, or mobile phone and try on hundreds of different spectacles to see what style works for them.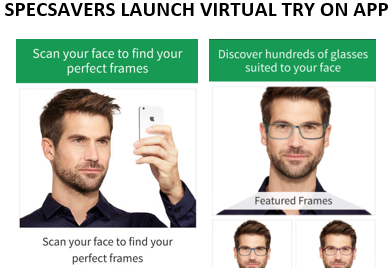 AR also finds practical applications in the realm of beauty. L'Oreal, for example, came out with an app called "Style My Hair," which let users see what they would look like in different hair colors to promote the brand's line of hair dyes.
This particular application of visual search in commerce has the potential to change the game for marketing because of how it transforms the way users interact and engage with content.
Internet of Things
The Internet of Things refers to the interconnectedness of devices through the internet. If AR brings the benefits of brick-and-mortar shopping to online channels, IoT employs the internet to enhance the physical shopping experience.
Makeup brand Coty, for example, installed the "Magic Mirror," a makeup try-on experience powered by AR, in their Bourjois boutique in Paris.
The Magic Mirror isn't a mirror at all, but a tablet with a front-facing camera so crisp and clear, it's like looking into a mirror. Customers can sit in front of the tablet while they're picking up and trying on makeup, and the mirror can record their experience for future reference or search for the items in their store's digital catalog.
Users can also make use of the mirror's integrated AR tech to apply "makeup" matched to their skin tones. This is useful when testers aren't available and also addresses hygiene concerns certain customers might have.
Coty isn't the only one to take advantage of these new innovations. Sephora also integrated IoT at their physical store through "Sephora Virtual Artist," a mobile app that lets users upload a photo of themselves through Facebook Messenger. Sephora's chatbot will then recommend products that shoppers can try out based on their skin shade the next time they're at Sephora to eliminate the decision fatigue that comes with browsing through hundreds of products and shades.
Want to know how visual search can drive ROI for your business?


Retailers are currently looking to extend this feature to the realm of fashion so users can record their experience trying on clothes at physical stores, which enables them to compare and contrast potential purchases that can then be done later at home through the brand's online store.
This interconnectivity, applied to visual search in retail, allows users to tangibly encounter products with the added convenience of having it readily accessible online. By blending the physical and digital, IoT can create a uniquely empowering shopping experience.

Key challenges for AR and IoT

While AI and IoT are the new frontiers for advertisers and markers, they're still considered nascent technologies that have mostly been used experimentally. And since the tech itself is still new, there's a limit to what anyone can do with it at this stage.
Other concerns include the cost of adopting the technology itself and implementing it across their physical stores and online platforms.
The rewards of visual search
But there's good news. Early adopters of the technology will likely receive significant returns in the near future, since these innovations cater to the younger, more tech-savvy shoppers who will soon be making the purchasing decisions. And according to ABI Research, the use of VR in retail and marketing could generate USD$1.8 billion in 2022.
Costs are also expected to go down as the technology becomes progressively more sophisticated and more accessible to brands. As more startups specializing in visual search become mainstream, it will be easier for retailers to integrate the technology into their existing services without breaking the bank.
Another example of a brand that has successfully leveraged on computer vision and visual search is INSPIFY, an app that connects brick-and-mortar boutiques with digital consumers. It uses visual sources of inspiration, such as articles, videos, and posts, and lets users instantly reserve an item at the nearest boutique.
Requiring visual accuracy and speed of service, INSPIFY partnered with ViSenze for its expertise in retail and e-commerce as well as its maket leading technology in this space.
This partnership has helped INSPIFY enjoy close to 3,000 monthly active users for the "Discover with INSPIFY" feature in their first test market of Singapore, successfully turning the app into an ecosystem of inspiration-driven users.
Want to know how visual search can drive ROI for your business?

CHAT WITH OUR TEAM TODAY
Breaking down the barrier between two worlds
Years ago, pundits believed that e-commerce would spell the end for brick-and-mortar stores as we knew them. But fast forward to the present day, and brands have learned that the online and offline worlds are not foes, but fellows on the same customer journey.
Where online shopping offers convenience and savings, the shopping in brick-and-mortar stores can be an immersive, personal, and fun experience. Visual search technology bridges both channels and the benefits they give to shoppers.
FAQ's
Question:- What is AR?
Answer:- Augmented Reality is an interactive and enhanced version of the real world which is attained through digital elements. It allows customers to interact with a 3D virtual space. In relation to retail, an example where AR is utilized is when shoppers use the camera on their phones in stores to scan product labels to learn more about the product and its availability. AR is used for virtual try-on product experiences in online shopping.
Question:- What is meant by a consumer decision journey?
Answer:- A consumer decision journey details the series of steps consumers take while deciding whether or not to make a purchase. This journey helps organizations understand how their customers make a purchasing choice and thus aids their business strategy.
Question:- How do we distinguish brick-and-mortar stores?
Answer:- Brick-and-mortar stores are traditional businesses that provide services to their customers in person. Visenze believes that brick-and-mortar and e-commerce are beneficial to each other. With visual AI, the offline and online can work together to create an immersive, efficient omnichannel shopping experience.
If you're interested in exploring how visual search can enhance your customer's shopping experience both through social and beyond, get a free trial with ViSenze today.