"The future of search will be pictures rather than keywords."
~Ben Silbermann, CEO of Pinterest
Visual search is a powerful tool that can benefit both customers and eCommerce platforms by enhancing product discovery and improving revenue generation.
While product discovery is enhanced for customers, particularly Gen Z and millennials who prefer visual search capabilities, it can also have a positive impact on revenue generation for eCommerce platforms.
By making it easier for customers to find what they're looking for, visual search can increase the likelihood of successful transactions. It can improve the overall shopping experience and lead to enhanced customer satisfaction, loyalty, and higher revenue.
By 2028, the market value of visual search is projected to reach over USD 32,000 million, promising an enhanced online shopping experience to end-users.
Learn how visual search is improving the eCommerce landscape in this blog post.
Understanding Visual Search in eCommerce
Visual search is transforming the way users search for products online. By leveraging advanced algorithms and artificial intelligence (AI), visual search can analyze and interpret the visual characteristics of a product to find relevant matches.
Whether your end-users are searching for a specific shape, color, or pattern, visual search makes it easy to find what they're looking for by simply uploading a picture. For example, shoppers can use Pinterest Lens for visual search to shop for 2.5 billion home and fashion objects!
The advantages of visual search are numerous. It reduces the time it takes for users to search for products and streamlines their journey, enhancing the overall experience.
Simplifying Product Discovery with Visual Search
Visual search has simplified eCommerce and transformed shopper engagement on eCommerce platforms.
Here are five reasons why visual search is a promising way to experience improved product discovery:
Seamless process: Visual search technology lets users click a photo or upload an image to start their search. It makes the search process easy and seamless.
Sophisticated and user-friendly: When users upload an image, AI analyzes the visual data within the picture. Then, this data is compared to huge databases containing similar visual features. Once matched, it shows a myriad of image results similar to the searched product.
Convenient product discovery: Visual search enables users to visualize their shopping cart items. They can customize, for example, their outfit by gauging its visual appeal. They can also choose similar products by personalization, resulting in boosted cart sizes.
Personalized recommendations: Visual search can provide customers with a range of options for creating outfits from a catalog's existing assets. This makes it easier and more convenient for shoppers to put together their favorite products.
Better user satisfaction: With visual search, shoppers can receive results that are relevant and aligned with their intentions, leading to greater satisfaction and quicker decision-making.
Boosting Engagement and Conversion Rates
Reduced bounce rates, enhanced engagement, and conversion rates signal that you're acing your visual search strategy.
Better user interaction: It allows end-users to explore a website by uploading an image and receiving options for similar-looking products. This immersive experience engages users in the product discovery journey.
Lower bounce rate: Visuals engage better than text. The engaging nature of visual search keeps users from going to other apps/sites. It does it by providing tailored search results and multiple similar-looking results.
Enhances conversion rate: Users are likely to buy the desired product if they can easily locate it. Visual search shrinks the path to discovery by providing ease and convenience, resulting in quicker sales.
A great user experience: Visual search ensures you don't have to navigate hundreds of pages. It presents the products that are aligned with the user's intent. Hence, it enhances the overall user experience and brand perception.
Best Practices for Effective Visual Search Integration
Here are the best practices you should implement for effective visual search integration:
Optimize image quality: When you use a high-resolution image, it helps in accurate recognition and matching. For example, if a user uploads a high-resolution image of a red dress, the visual search feature can accurately recognize and match the dress with similar products on the website.
Enforce clear product tagging: You must associate each product with relevant and comprehensive tags for exact search outcomes. For instance, if a product is a blue shirt, it should be tagged with relevant and comprehensive tags such as "blue," "shirt," "men's clothing," etc. This ensures that when a user searches for a blue shirt, the visual search feature can provide accurate and relevant results.
Flawless user experience (UX): When you integrate visual search features and accessibility in your platform's UI, it encourages users to engage better. This can include features such as an easy-to-use visual search button or clear instructions on how to use the visual search feature.
Leverage AI and machine learning: Artificial intelligence and machine learning algorithms enhance visual search results' accuracy and relevance. For instance, a visual search feature can enhance the accuracy and relevance of its results. This can include techniques such as object recognition, pattern recognition, and color analysis.
A/B testing and optimization: You can set configuration rules and tracking can be implemented for each placement. Retailers, based on the collected data, can accordingly adapt to reach their desired outcomes.
Observe and acclimate: You can consistently analyze the performance of your visual search feature by gathering user feedback and monitoring usage data. Based on this information you can adjust its visual search feature to meet the needs and preferences of its users.
Mobile Shopping and Visual Search Integration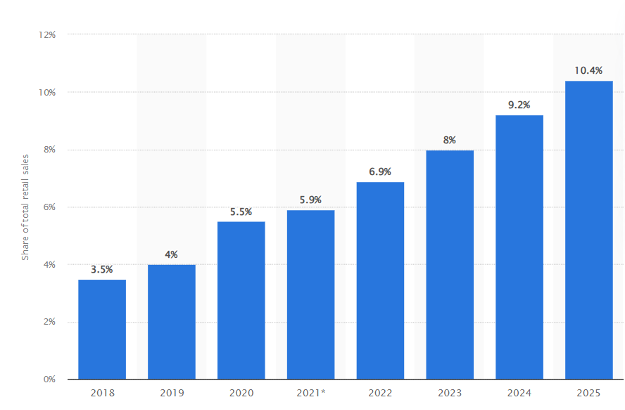 Caption: Share of mobile commerce sales in total retail sales in the USA from 2018 to 2025
Gen Z and tech-savvy customers are at the forefront of eCommerce trends. To cater to them, eCommerce players must make their mobile apps the centerpiece of their strategy.
One key way to do this is by integrating and optimizing visual search.
Visual search is a game-changer for mobile users who crave quick and effective interactions. With over half of web traffic worldwide coming from mobiles, optimizing visual search is not just beneficial, it's essential.
Here's why visual search should be a cornerstone of your mobile shopping strategy:
Smooth shopping experience: Visual search eliminates the need for text-based searches. Customers can simply use images to find products, resulting in a convenient and quick shopping experience. This feature is particularly appealing to Gen Z and millennials who prefer interactive and visually engaging interfaces.
Effortless product exploration: Users can interact with the app and discover relevant products without the need to repetitively type in different items' names. It's all about making product discovery as effortless as possible.
Optimized visual search: To cater to mobile users, visual search must be fully responsive with an interactive user interface and good loading speed. An optimized visual search feature not only enhances user experience but also boosts engagement and conversion rates.
By making their apps the hub of their strategy and investing in visual search, eCommerce players can provide an enriched shopping experience that resonates with Gen Z and tech-savvy customers.
Future trends and developments in visual search
The global visual search market is expected to continue its growth from 2023 to 2031. As technology evolves, we can expect to see significant transformations in the field of visual search.
Visual search is particularly important in the eCommerce industry and has the potential to transcend language barriers in multilingual countries such as India.
In addition to its applications in fashion eCommerce, visual search technology has the potential to be used in a wide range of other industries and use cases. For example:
It can be used in the home decor and furniture industries to help prospects find and discover products that match their style and preferences.
In the eyewear industry, visual search can be used to help prospects find their desirable pair of eyewear by uploading an image of a preferred frame style or shape.
Overall, visual search has the power to enhance the shopping experience and empower both customers and retailers to engage in new and meaningful ways.
The way forward to improving visual search in eCommerce
Visual search, powered by advanced algorithms and AI, allows users to find products by simply uploading images, making it a seamless and user-friendly process. The technology is revolutionizing the eCommerce industry by improving the customer shopping experience, driving engagement, and ultimately increasing revenue.
As technology evolves, visual search is poised to play a pivotal role in various industries beyond retail. Brands that embrace this revolution are likely to succeed in the evolving global market.
However, visual search alone cannot do justice to the customer journey without a robust backend and UI support. Here are a few key takeaways to understand the power of visual search:
Transforming eCommerce search: You can discover products through images instead of text.
Rapid market growth: The future is bright with the global visual search market touching USD 32,984 million by 2028.
Implementing best practices: Powered by AI and machine learning, new businesses are emerging every day to utilize the potential of visual search.
In the long run, brands that optimize visual search will last longer in the global market. By embracing this revolution, brands can share their unique voice and improve conversion rates.
Get in touch with us to learn more about how AI-powered Visual Search can boost engagement and conversion rates!