Founded in 2006, EyeBuyDirect (EBD) is one of the leading online retailers of prescription eyeglasses and sunglasses. Their mission is to improve lives by making quality eyewear more accessible to the 2.5 billion people living with uncorrected vision across the globe. EBD sells thousands of frame styles. Their products range from classic to fashion-forward. In addition, their products sit at a number of different price points, which allows customers from all over the world to find a unique style that fits their budget.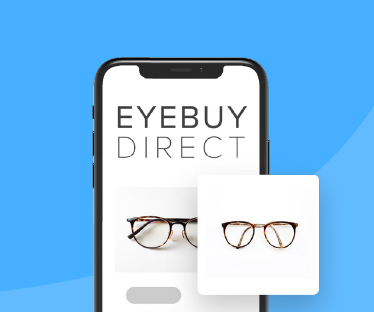 +1.15 million
Increased revenue on mobile
THE CHALLENGE
Improve and Optimize Product Recommendations
EBD had an existing product recommendations engine. The tool was built on simple technology that was prone to inefficiencies. Because recommended products weren't exactly the right match, this was impacting the customer experience while also limiting EBD's ability to cross-sell and up-sell. Shoppers were only seeing a small selection of similar products and missing out on a wide selection of frames that fit their personal styles. In early 2020, EBD recognized the opportunity to improve its product recommendations engine.
THE SOLUTION AND THE RESULTS
Maximize Customer Journey and Boost Average Order Value
EBD saw about a 20% increase in click-through rates within a month of implementing ViSenze Smart Recommendations. A pricing logic was also added into EBD's recommendations engine. Over the course of a few months, this pricing logic was refined to find the right balance between generating higher conversion rates while also uplifting the average order value. By December 2020, the average overall session value among users who were exposed to similar products increased by 2.4%, and by April 2021, this has also resulted in a projected annual revenue increase of $1.15 million on mobile alone.
EBD also launched a Similar Styles Results Page in March 2021. When customers click on a frame style, they're presented with four visually similar styles below the page's hero image. The Similar Styles Results Page produced extraordinary results by guiding customers to frame options that match their personal tastes. Thanks to the strong partnership between EBD and ViSenze, the data gained from early tests and the refinements implemented on EBD's recommendations engine lead to a 29x return on investment.
Visual AI is a cool and fascinating technology. It's easy to see how it could be used in other industries beyond eyewear. I would recommend working with ViSenze because our relationship has been strong. When the results of our initial pilot weren't mind-blowing, I wanted to keep working with ViSenze because I could see how we could move forward comfortably. They've helped us by developing new solutions based on our feedback, and that's been great for us.
As of April 2021, EBD saw an increase of $1.15 million on its projected annual revenue on mobile alone and has already seen a 29x return on investment after ViSenze fine-tuned its recommendations engine.