Kravet is home furnishings brand with over 90 retail outlets across US and Canada. The company distributes fabrics, furniture, wall coverings, trimmings, carpets and accessories.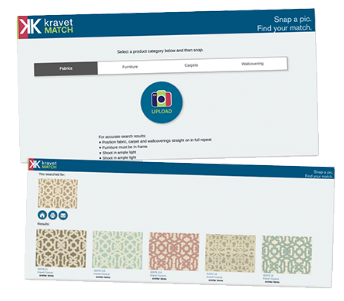 Challenges
With hundreds of thousands of product samples in their catalog, Kravet needed a solution to drastically increase the productivity and efficiency of their staff when they conduct product searches within their database, to find exactly what their clients want
Solution
Search by Image helps Kravet eliminate ineffective keyword guessing attempts during the search process. Instead of trying to find product using keywords, users upload images to search for matching or similar carpets, wallpapers, fabrics and floorings in Kravet's database.
We used AWS infrastructure to power the microservice architecture behind this solution. It enabled ViSenze to deliver the innovation with speed and agility.