UNIQLO trusts ViSenze for delivering a seamless visual search experience to millions of online shoppers. UNIQLO is a leading global fashion designer, manufacturer, and retailer. The company generated annual revenue of USD 14.4 Billion in 2016.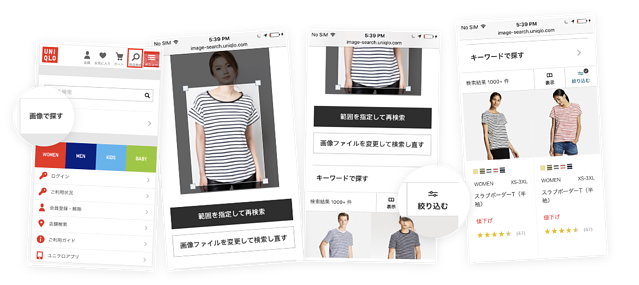 Challenges
UNIQLO wanted to bridge the gap between products that people see around them and wish to buy and products shown online based on text-based search queries. The limitations of text-based search resulted in customers failing to discover products that already existed in UNIQLO's catalog and lost revenue.
Solution
UNIQLO implemented Search by Image to ensure that customers can search for products using the actual source of inspiration, especially in cases where a text-based description is likely to fall short. By introducing Search by Image, UNIQLO was also able to push its omnichannel approach further, as in-store shoppers could now easily search for the same products online. ViSenze used Amazon EC2, EKS, and DynamoDB for fast, scalable deployment of our AI/ML-based solutions.