Recognized for Deep Domain Expertise and Proven Customer Success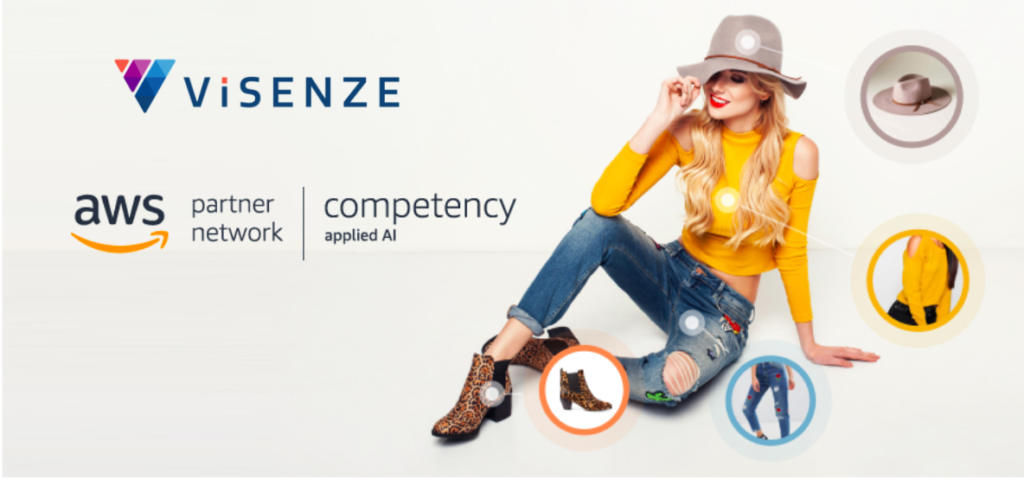 [ViSenze] announced today that it has achieved Amazon Web Services (AWS) Machine Learning Competency status in the new Applied Artificial Intelligence (Applied AI) category. This designation recognizes that ViSenze has demonstrated deep experience and expertise in building or integrating ML solutions on AWS. AWS Partners in the AWS Partner Network (APN) recognized as part of the AWS Machine Learning Competency expansion help customers take advantage of intelligent solutions for the business, from creating, automating, and managing end-to-end ML workflows to modernizing applications with machine intelligence.
The AI and ML driven applications are maturing rapidly and creating new demands on enterprises. AWS is keeping pace and continuously evolving AWS Competency Programs to provide customers an ability to engage enhanced AWS Partner technology and consulting offerings. AWS launched the two new Categories within the AWS Machine Learning Competency to help customers easily and confidently identify and engage highly specialized AWS Partners with Applied AI and/or ML Ops capabilities. With this program expansion, customers will be able to go beyond the current data processing and data science platform capabilities and find experienced AWS Partners who will help productionize successful models (ML Ops) and find off-the-shelf packages for their business problems (Applied AI).
Achieving the AWS Machine Learning Competency in Applied AI differentiates ViSenze as an AWS Partner with deep domain expertise and proven customer success.

"ViSenze is proud to be one of the first AWS Partners to achieve the AWS Machine Learning Competency status in Applied AI," said Brendan O'Shaughnessy, ViSenze CCO. "It is a testament to a lot of hard work behind the scenes to build solutions for the market that make a real difference to retailer's and brand's top-line revenue growth, whilst enhancing their CX. The pandemic forced the industry to identify new ways to transform the online shopping experience, and ViSenze, in collaboration with AWS, have risen to this challenge, continuing to innovate to enable the world's leading retailers to deliver the shopping service that consumers increasingly want."

AWS is enabling scalable, flexible, and cost-effective solutions from startups to global enterprises. To support the seamless integration and deployment of these solutions, AWS established the AWS Competency Program to help customers identify AWS Partners with deep industry experience and expertise.

With its evolved Product Discovery Suite, ViSenze is transforming how retailers, brands and marketplaces increase their site traffic, improve product discoverability, and generate higher engagement times, session values and revenue. Powered by sophisticated AI computer vision technology, the Product Discovery Suite is comprised of modular Search, Recommendations, Ads and Catalog Enrichment services, and comes with new configuration tools, a multi-platform UX builder and market leading analytics. "With our new Product Discovery Suite, we enable retailers to configure and deploy Search and Recommendations services in hours, not weeks" said O'Shaughnessy, "It really is transformative."
This AWS Machine Learning Competency recognizes ViSenze's capabilities within AI/ML in the rapidly maturing space of product discovery SaaS and is complementary to ViSenze's existing Retail competency.
"These AWS Partners all have a proven track record of helping customers leverage AWS services for Applied AI and ML Ops use cases and we're delighted to expand the AWS Machine Learning Competency Program with them. This AWS Machine Learning Competency update will help customers quickly and confidently identify and engage vetted AWS Partners with deep expertise in Applied AI and ML Ops," said Julien Simon, Global AI & ML Evangelist, AWS. "We look forward to seeing them work with our customers to create game-changing innovations that will impact and improve the way companies leverage AWS ML services."
Request a virtual demo and experience how ViSenze's Product Discovery Suite can deliver impact for your eCommerce site.

About ViSenze – ViSenze Visual AI solutions, built upon industry leading AI/ML technology, enable bespoke use-cases across e-commerce, in-store, retail operations and visual commerce for retailers and publishers. Our visual search, recommendations, and automated product enrichment solutions help retailers transform how consumers search and discover products online and in-store. We have helped +900 global brands and retailers such as Rakuten, TOD'S, Uniqlo, Zalora and Urban Outfitters to improve their conversion rates and grow revenues. ViSenze has a global presence with offices across the US, Singapore Ireland, China, Japan, Brazil, and Russia. For more information, contact us.