For fashion retailers, ecommerce merchandising plays a major role in everything from customer experience to brand reputation and revenue growth. Without implementing the right mix of digital merchandising tactics, retail businesses can risk frustrating their customers, missing out on sales opportunities, and making great products difficult to find.
Let's take a look at what makes ecommerce merchandising so critical and how to solve some of the most common merchandising challenges.
How does merchandising differ between ecommerce and traditional retail?
In a broad sense, merchandising describes a variety of practices that relate to promoting and selling goods. It covers a range of activities like displaying products, creating signage, marketing or advertising to customers, offering seasonal promotions, and more.
In a traditional retail environment, visual merchandising focuses on the art of presentation. A team of professionals works together to create the most appealing in-store environment that puts products in the spotlight. Their efforts help educate the customer about what's available and why it's special, while also sparking inspiration and driving the desire to purchase.
For an online store, similar tactics are used for ecommerce merchandising in the best possible way to engage consumers. In both types of retail environments, this process supports product discovery, relates different products to each other and to seasonal trends, and ultimately facilitates a smooth customer journey.
However, shoppers move very differently through online retail environments. In a physical retail space, a shopper might be pulled in by exciting window displays and proceed to walk through styled mannequins and curated racks of clothing, stopping to ask a sales associate for assistance along the way.
Online, the shopper might arrive on the site via a dazzling ad or another form of eye-catching digital marketing. Using a web browser, they spend their visit viewing model shots, clicking through navigation menus, utilizing search features, and jumping from one product details page (PDP) to another.
While the basic merchandising goals remain the same across traditional and online retail, each type of merchandising expert needs to know how to cater to these unique shopping experiences. Adapting tactics to an ecommerce website presents a range of challenges for retailers, but it also creates new creative possibilities and cross-selling opportunities.
For instance, visual merchandisers might draw on their own styling skills to pull together impressive-looking outfits and creative product displays. But when doing ecommerce merchandising, retail professionals can follow a data-driven approach.
In the ecommerce environment, retailers utilize ecommerce tools powered by visual artificial intelligence (AI) that can process customer and catalog data and instantly generate high-performing and personalized product curations that look great and sell well.
Ecommerce merchandising is a necessary task for retailers who want to not just make sales but drive profitability from their online inventory. The reduced manual effort, fewer errors, and a more seamless customer experience are just a few of the benefits of a digital merchandising process fueled by visual AI and automation.
1. Reduced manual effort and greater efficiency
Using AI-powered ecommerce tools for digital merchandising helps eliminate the tedious, time-consuming process of manual product tagging. It's a more efficient and sustainable way to drive the most value out of your catalog.
These ecommerce tools can also promote tagging consistency across the whole product catalog, which helps improve every aspect from search and recommendations to customer experience. With automated product tagging tools, online retailers can easily identify gaps and inconsistencies across their assortment and implement solutions more efficiently.
2. Better search experiences
Lackluster product data can hinder the shopping experience and negatively impact the brand's image as an ecommerce destination. But AI-enriched product listings make for a better search experience. Shoppers can input a variety of search queries and, each time, they'll see hyper-relevant results.
For instance, a customer might be browsing for "short cardigans." If the merchandising team just manually tagged related products as "cropped sweaters," this customer won't see the results they're expecting. However, if visual AI processed each product listing, it might include attributes like "short," "cropped," "high waist," "cardigan," "sweater," "knit" and many more. The search tool will then be able to serve up a variety of products that match the customer's query.
3. Improved product recommendations
In addition to better search performance, products that are enriched with AI-generated tags and style attributes can support more accurate and high-performing product recommendation engines across the site. AI-powered ecommerce tools can instantly put together on-trend outfits featuring a hero product. Or, they can generate shoppable product curations for any season or occasion.
Retailers can add product recommendation widgets on individual PDPs, product collection pages or even at the checkout. This can be an engaging way to showcase a wider array of ecommerce merchandise and continue the customer journey.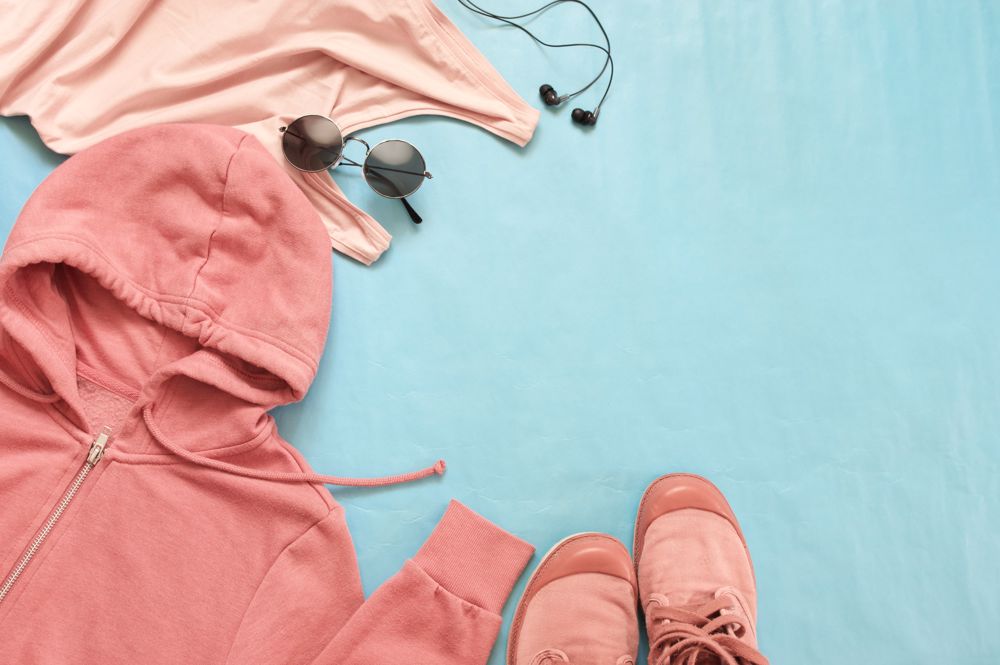 4. Positive brand perception
Merchandising has a significant impact on the overall brand experience. For ecommerce retailers, it's essential for communicating the brand's mood and ethos at a glance while promoting a shoppable look and lifestyle.
When products are beautifully displayed and PDPs are easily accessible, shoppers come away with a more positive perception of the ecommerce brand. Eye-catching and user-friendly digital merchandising can be just as inspiring to consumers as a beautifully laid-out store with attractive displays.
Product enrichment can also help merchandisers create collection pages and style edits — like a roundup of holiday looks or a sustainability edit — that will resonate with shoppers.
5. Impactful upselling and cross-selling opportunities
One of the many ways merchandising helps to drive sales is through upselling and cross-selling. In stores, retail associates might dress mannequins and work with customers to put together shoppable outfits and accessory pairings. In an ecommerce environment, though, digital merchandising and AI-powered recommendation features take over this role.
When an ecommerce website is populated with shoppable visual content, effective search tools, and inspiring product suggestions appearing across the site, the retailer has plenty of chances to nudge customers toward bigger and better purchases, even without manual intervention.
For upselling, a "You May Also Like" widget can steer a shopper to purchase a similar style at a higher price. For cross-selling, a "Shop the Look" feature can help customers find other products showcased in the same image. Moreover, a "Complete the Look" option can point a customer toward accessories and extras that coordinate with a hero product in their basket.
6. Enhanced customer experience
All of the aforementioned benefits point to a better customer experience. Across the board, a strong ecommerce merchandising strategy makes online shopping easier and more compelling. It not only helps customers find what they want faster but helps them discover new products they didn't know they wanted before.
Ecommerce Merchandising Ideas to Drive Revenue
With a rich source of customer analytics and a vast amount of product data at your fingertips, it's possible to test and optimize how you present ecommerce merchandise across your site. Now that you know the benefits of having an efficient process fueled by AI, let's take a look at some ecommerce merchandising techniques and creative ideas that help drive higher conversion rates.
Personalize product suggestions based on browsing history
Use your shoppers' browsing behavior to inform what recommended products appear across your site. If they're clicking on a lot of similar products, keep showing more to help them find the perfect item. But if they're engaging with "Shop the Look" and "Complete the Look" features and exploring a wide array of product categories, make sure your recommendation engine displays a range of curated looks and complementary accessories.
It's hard to grow your ecommerce business with a "set it and forget it" approach. Although automation tools can take all the heavy lifting and guesswork out of catalog management, you can set certain parameters to drive higher average order values up. One great way to do this is to prompt your recommendations engine to display similar but higher-cost or higher-margin styles. This way, you're shortening the path to product discovery and matching shoppers with awesome products that will be more profitable for your business.
Help shoppers search and filter by occasion
When customers visit online fashion retailers, they don't always know what outfit they want — but they might know what occasion they need it for. Once your AI technology is set up to tag products based on style and occasion, leverage this information to help out these shoppers. Present a range of on-trend style edits based on different events, activities, and moods to kickstart the product discovery process.
Introduce your customers to visual search
New visitors might not realize your ecommerce website supports visual search — and even existing customers may not be familiar with this process. Don't be shy about showcasing this capability. Instead, turn this new feature into a digital merchandising opportunity. Add a simple demonstration that shows users how to search through images found online, uploaded photos, or social media posts. Consider providing some of your own model shots and lifestyle photos to get users started.
Display comprehensive, consistent product descriptions
Some customers find shopping for clothing online to be a challenge — especially since they can't touch or try on the styles they're interested in. Any product information you have can be useful to your online customers as they make a purchasing decision. Use automated product tagging to fill in any gaps, then be sure that every product page features an organized and detailed list of key features.
This can be especially great for comparison shopping. For example, when shopping for high-waisted jeans, a customer might want to compare dimensions like the rise and inseam. They'll probably also look at the fiber content to see whether different styles are made in stretch or non-stretch denim. This level of detail and transparency can encourage customers to make higher-value purchases with confidence.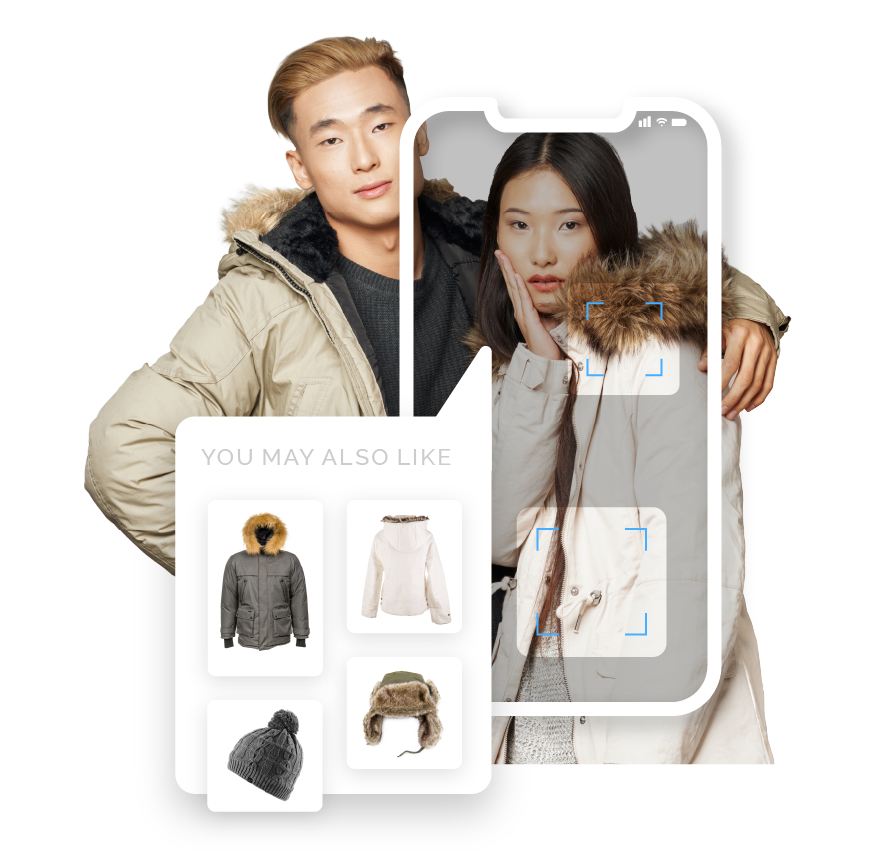 Make lifestyle photos shoppable
Editorial content can help to tell your brand story and reel in customers who are eager to learn more. But it's not wise to make them manually search for the products they see in your photos. This often results in frustration and disappointment with your brand.
Instead, make these outfits and images shoppable. A visual AI solution will be able to pinpoint the featured products and point site visitors to the respective PDPs. It can even suggest similar styles if the featured items are out of stock.
You can also use this tactic when displaying user-generated content (UGC) from influencers and happy customers. This way, your brand benefits from the social proof, and site visitors can see how other people style and wear your pieces. Plus, they can easily purchase those items without hassle.
Serve up fresh inspiration on a regular basis
When you use ecommerce tools for automation in digital merchandising, it's much faster and easier to refresh your ecommerce website. Instead of leaving the same suggestions and images on your site for weeks on end, keep your homepage and product curations constantly updated. Use dynamic recommendation widgets to present new and interesting outfits and showcase the latest products. This way, you can make sure your online storefront is a go-to destination for fashion consumers who are always looking for the hottest trends, fresh outfit ideas, and unexpected styling inspiration.
Smarter approach to Ecommerce Merchandising
If you're still stuck manually tagging products and curating outfits, it's time for a more streamlined and efficient approach to presenting and selling your ecommerce merchandise. Connect with us to learn more about how ViSenze can help your retail business accelerate revenue growth with smarter digital merchandising and greater product discoverability.