Luxury e-commerce requires a unique approach that considers the differences between luxury and mass-retail strategies, target audiences, consumer behavior, and technical solutions.
Brands must replicate the high-end products and experiences they offer in retail stores through personalized content and recommendations online, leveraging offline and in-store customer data.
With the right technology and marketing strategies, luxury brands can lead the way in providing a personalized online shopping experience. Now is the time to talk about how to achieve this.
Leading the Way with Personalized Product Recommendations
Not all personalization suites are created equal. While some industry leaders have successfully implemented the best personalization solutions to create impactful campaigns, many solutions still face challenges like poor segmentation and a lack of useful insights.
Vanilla personalization does not resonate with the customers of luxury brands. The most successful brands leverage real personalization to deliver effective campaigns that rely on previous interactions to display only the most accurate recommendations.
Sephora, a leading beauty brand, is a prime example of a company that has successfully implemented real personalization to curate 1:1 recommendations at scale. Sephora's campaigns are tailored to each user's most current interactions and preferences, resulting in increased engagement across multiple touchpoints.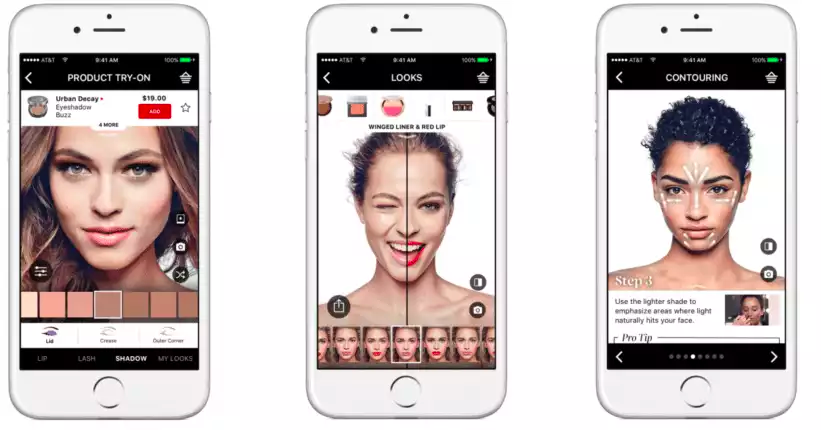 (Source)
According to a report by eMarketer, personalized product recommendations are one of the most effective personalization tactics, leading to a 26% increase in revenue. Sephora's use of personalized recommendations has resulted in a 15% increase in average order value and a 20% increase in conversion rates.
Placing New Technology at the Heart of Luxury Retail Experience
According to research, Millennial and Gen-Z shoppers will account for 45% of the global luxury market by 2025, with nearly 80% of purchase decisions being influenced digitally.
One of the key factors driving these consumer behaviors is the desire for personalization, resonating with brand values, and prioritizing experiences over material possessions.
As a result, luxury brands must have a robust e-commerce presence and use consumer data to deliver personalized products and services that are responsive and relatable.
Luxury brands like Burberry have very well understood this phenomenon and worked on their e-commerce strategy. Burberry's team believes that personalization has become the new norm.
"We will offer a personalized digital experience through product recommendations that are tailored to customer preferences. We will ensure dynamic online customer engagement, for example through evolving and personalizing homepages." – Burberry CMO Sarah Manley


One of the ways Burberry provides personalized recommendations is through its "You May Also Like" feature. This feature suggests products that are similar or complementary to the product a customer is currently viewing or has added to their cart. Burberry also uses product recommendations in its abandoned cart emails, where customers receive personalized recommendations based on the items left in their cart.
Burberry also made great use of Facebook Messenger's chatbot services during London Fashion Week to provide updates on the exhibits and also allow users to buy products through the chatbot.
Burberry was able to increase its conversion rate by 3.5% through its personalized product recommendations. The study also found that customers who engaged with Burberry's personalized recommendations had a 60% higher average order value than those who did not.
Burberry has a new augmented reality (AR) functionality on Burberry.com for customers to virtually place a true-to-scale model of the signature bag within their environment.
Users can use their smartphone to generate the 3D bag which they can position in various live scenarios by scanning their surroundings—whether on a table next to other personal items to understand the size of the product or to view contrasting colorways, simulating the in-store experience.
Burberry's efforts to offer personalized product recommendations and content through its website and mobile app have enhanced the customer experience, engagement, and sales. The brand can achieve all of this using a blend of customer data and personalization algorithms.
Delighting Luxury Shoppers with the Right Product Discovery Solution
Boost cart sizes and increase conversion rates with our customizable Outfit Recommendations. Create full outfits from a catalog's assets for every occasion, including Shop the Look, Outfit Inspiration, and Pairing Suggestions—to increase Average Order Value and Conversion Rate.
On its website, Gucci uses an artificial intelligence-powered tool called "Gucci Live" to offer personalized recommendations to users based on their browsing behavior and purchase history. Gucci Live uses real-time data analysis to suggest products that are tailored to each user's preferences.
Visual Product Recommendations
Engage and convert customers even when a desired item is out of stock with visually similar product recommendations.
Neiman Marcus, a popular brand, has an innovative image recognition tool that allows shoppers to take photos of clothing and accessories they see at the store, and will then find the exact or similar products on the mobile store.
Email Retargeting Using Personalization
Luxury retail brands analyze user data from both in-store and online sources for personalized recommendations.
Saks Fifth Avenue uses email retargeting to offer personalized product recommendations based on browsing and purchase history. If a customer doesn't complete a purchase, Saks will send an email reminding them of the product and personalized recommendations.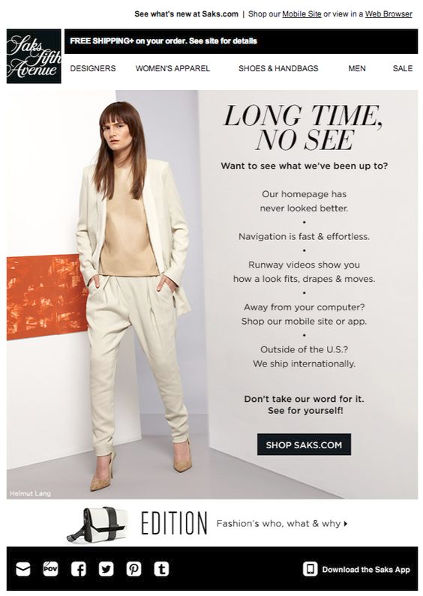 (Source)

Driving Product Adoption for Underutilized Categories
Brands can leverage their entire catalog with Smart Tagging and Smart Search to guide shoppers toward new purchases and upcoming trends. Drive revenue by promoting under-discovered categories and offering personalized product discovery experiences that delight customers.
Visual Search Over Text-based Search


Improve shopper engagement with accurate product information using Visual Search. With a good product discovery solution, consumers can quickly scan the product and get relevant information at their fingertips.
Only 8% of retailers have implemented Visual Search, but the global market is predicted to exceed $14M by 2023.
Visual Search provides a seamless and frictionless shopping experience, allowing customers to effortlessly find products by uploading a photo, satisfying the need for speed of Generation Z shoppers.
Driving New Rules of Engagement with Personalized Product Recommendations
Personalization is key to unlocking a world of possibilities in luxury e-commerce. By curating personalized content and product offerings based on customer preferences, brands can enhance their e-commerce initiatives.
ViSenze is a powerful tech stack that offers the right mix of product discovery capabilities to level up a brand's e-commerce game. Try ViSenze Smart Recommendations with a Month of Free Revenue today!