Rakuten Ichiba, an e-commerce platform, is the largest e-commerce site in Japan and is among the largest in the world. The online giant offers more than 95 million products from about 40,000 merchants, has more than 75 million users in Japan. Generated more than USD $5.8 Billion in revenue in 2016.
Challenges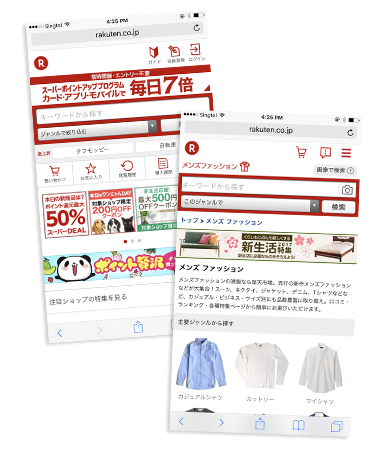 Rakuten Ichiba's e-commerce platform is used by more than 40,000 merchants. These merchants are required to update information and images about products that they are selling online. Rakuten observed that product discoverability was a challenge, as the way in which merchants described a product often differed from the way shoppers were searching for products. The company had implemented best practices for merchants regarding product descriptions and meta tagging in the past, but was now looking for a solution that could solve this problem at scale, especially for their fashion category. The company wanted to transform the consumer's discovery phase for fashion products on the site and therefore the challenge was broken down into two parts. First, Rakuten wanted to ensure that shoppers are enabled to search for products that are visually relevant to what they are looking for. Second part of the challenge, was to enable shoppers to find complementary products based on color similarity.
Solution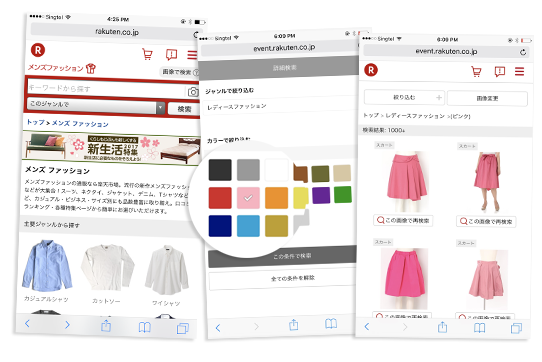 Rakuten implemented the Search by Image solution from Visenze in order to enable users with better product discoverability. By introducing the new capability on its site, the company gave its mobile users the ability to use images or screenshots of products, instead of text, to search for visually similar products. In addition to search and discoverability, Rakuten also enhanced its recommendation engine by enabling the option to narrow down search by enabling search by color. By using this combination, Rakuten improved product discoverability and click through rates. In addition, by introducing visual search that's powered by AI and deep learning, the company is able to differentiate and enrich its user experience.
We used AWS infrastructure to power these AI/ML solutions using EC2, EKS, Aurora, SQS, and S3. It enabled ViSenze to deliver accuracy and speed.