We're proud to announce our partnership with iPrice Group, South-East Asia's largest eCommerce meta-search aggregator.
Today, iPrice Group and ViSenze announced a partnership that will bring more exciting products to shoppers when they shop with their AI-powered Shopping Lens embedded in their smartphones. Since 2019, smartphone users across Southeast Asia are able to use Visual Shopping Lens powered by ViSenze on their mobile phones to check if an item is available for online purchase.
As part of the partnership, iPrice brings over a billion new products from thousands of merchants across Southeast Asia for consumers to choose from when they shop with their mobile phone Shopping Lens that is powered by ViSENZE. Together, iPrice and ViSENZE will give users the best shopping experience by providing the most efficient way to search, find, and compare products, as well as their prices and delivery schedules. As a meta-search group, iPrice will additionally offer vouchers and coupons to shoppers. Just by snapping a picture of the product, ViSenze's image recognition and search engine will automatically detect, recognize, and search for the exact or similar product choices from iPrice's entire catalog and return the closest matches quickly.
"This partnership with iPrice will provide the widest and most comprehensive cross-platform shopping experience for users in Southeast Asia. We want to build a rich shopping experience that is served by having the most relevant products shown to the shopper through the most seamless search process. We want to give shoppers both tools and choices to make better purchase decisions, and also be offered recommendations that would delight them. To do this, we will leverage the entire iPrice product catalog and rich product content into our global affiliate network," said ViSenze's Chief Executive Officer & Co-Founder, Oliver Tan.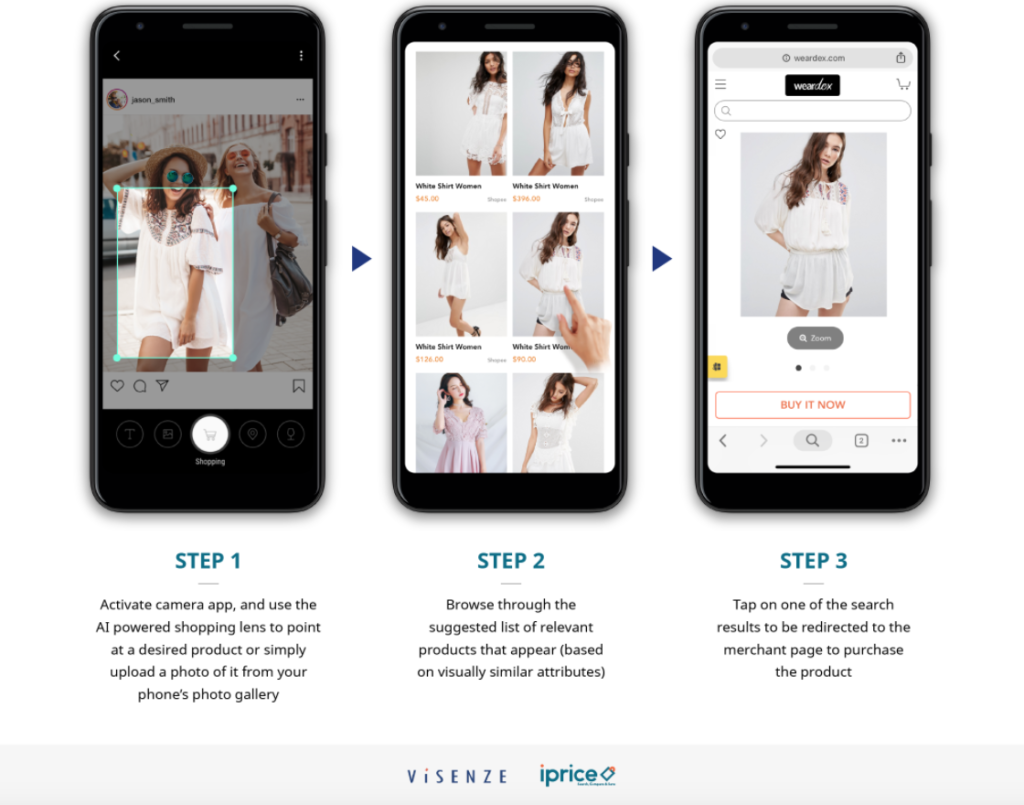 In just three easy steps, consumers can shop for products that they see anywhere:
Activate camera app and use the AI-powered shopping lens to point at a desired product, or simply upload a photo of it from your phone's photo gallery
Browse through the suggested list of relevant products that appear (based on visually similar attributes)
Tap on one of the search results to be redirected to the merchant page to purchase the product
"We want to take inspiration to gratification immediately for consumers anywhere and everywhere. Take a photo of whatever you like and buy it online, in just 3 simple steps," said Tan.
This Shopping Lens is currently available on most Samsung, Huawei, and Vivo smartphone models in Southeast Asia today where users can also compare prices and choices amongst different e-commerce sites and merchants offering the product. Users may refer to applications Bixby (Samsung), HiVision (Huawei), Q-Lens (LG) and Jovi (Vivo).
"It's a win-win situation. ViSenze provides the hassle-free search technology that eliminates keyword guessing to find products quickly. iPrice offers choices on good deals by comparing prices, deals, and delivery schedules from thousands of e-commerce merchants. Combining both of the values we offer, users get the optimal shopping experience," said iPrice Group CEO & Founder David Chemlar.
There are over 200 million shopping lens users utilizing this technology from ViSenze today. With 360 million Internet users in Southeast Asia (and 90% of them primarily connected through their mobile phones), this mobile visual search technology will revolutionize online shopping. A recent study by National Research Group (NRG) in the United States uncovered shopping as the number one app category consumers would use more if Visual Search was integrated. ViSenze's own market study shows that 62% of Gen Z and millennial consumers prefer to use visual search over text or any other technology.
"Through mobile phones, we want to bring the users' convenience of shopping whenever and wherever they are. We want to be there and show them the best deals through the mobile Internet entry port," said Chmelar.
iPrice Group catalogs more than 1 billion products from seven countries, namely Thailand, Vietnam, Malaysia, Indonesia, Singapore, Philippines, and Hong Kong. With the booming E- commerce market in these countries, especially Vietnam and Indonesia, both iPrice and ViSenze vow to work together for continuous technology and catalog enhancements for the best user experience in the region.
About iPrice Group
iPrice Group is a meta-search website operating in seven countries across Southeast Asia namely in; Indonesia, Malaysia, Singapore, Thailand, Philippines, Vietnam, and Hong Kong. Currently, iPrice compares and catalogs more than 1 billion products and receives close to 20 million monthly visits across the region. iPrice currently operates three business lines: price comparison for electronics and health & beauty; product discovery for fashion and home & living; and coupons across all verticals.