By merging ViSenze's AI-powered visual commerce capabilities with Pixibo's size and fit PRODUCT recommendER platform, consumers are offered suitable products based on their desired size
Today, ViSenze, the market leading AI company powering visual commerce, and Pixibo, the retail industry's most accurate size and fit product recommender platform, announced a global first – a strategic partnership to merge visual search capabilities with personalized size and fit recommendations to consumers. This is a significant milestone brands and consumers looking for more personalised and accurate recommendations based on fit.
Launching on both Zalora, Asia's leading online fashion destination and Mitra Adi Perkasa (MAP), Indonesia's leading lifestyle retailer and ecommerce marketplace, consumers can now visually search for products they're inspired to purchase from various global brands such as Agnes B, Michael Kors, Calvin Klein, Lacoste, Nautica, Steve Madden, Reebok, Adidas, Sephora, and more, while also being shown similar product recommendations based on their size and fit preferences.
Consumers globally have grown to expect visual commerce capabilities within their shopping experiences as searching with an image of a product delivers more accurate results than simple keyword searches. By adding visual, size and fit recommendations to the customer experience, brands and retailers can sell more whilst reducing the number of costly returns that need to be handled post-sale. Together, ViSenze and Pixibo's platforms mark the industry's first major breakthrough in giving shoppers the opportunity to see visually similar products from different brands and labels in their recommended sizes. It's this size consistency that makes the buying decisions simpler for consumers, and delivers increased revenue to retailers.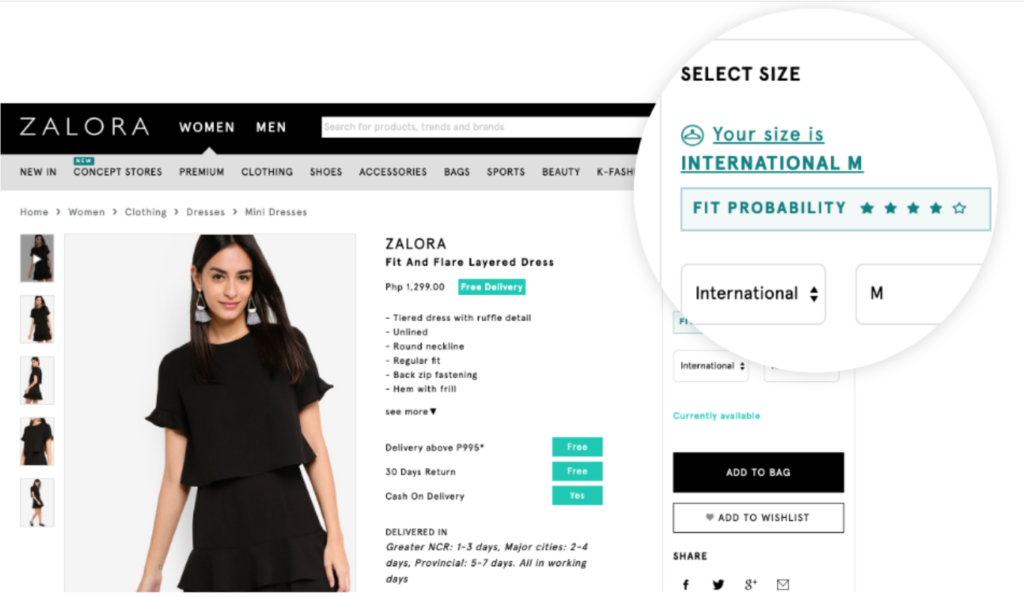 Book a virtual meeting to see for yourself
"We are very pleased to be part of this collaboration between Pixibo and ViSenze to deliver the next level of personalization in fashion," said Jenna Kosasih, Chief Commercial Officer, Mapemall.com. " Mapemall is the first e-commerce with O2O platform in Indonesia; home of international and authentic brands. Our strategic partnership with Pixibo allows us to do what we do best – inspiring through fashion and lifestyle."
"We are delighted to announce this partnership between Pixibo and ViSenze, as discovery and high search returns are the two largest challenges facing the online fashion industry today," said Rohit Kumar, CEO, Pixibo. "By natively integrating ViSenze's visual product recommender technology with Pixibo's Find Your Fit size recommendation technology, consumers for the first time will be able to see their personal style and customized fit data brought together. This partnership represents a consumer-first focus as it delivers a truly personalized shopping experience for online fashion by offering the right product, in the right size, personalized for every shopper, whether it be online, in-app, and in-store."
"Consumers continue to demand more personalization in their everyday lives, and delivering visually inspired recommendations that are size tailored, really simplifies the purchase decisions for consumers," said Brendan O'Shaughnessy, Chief Commercial Officer, ViSenze. "We're delighted to have Pixibo as our partner for this first ever personal shopping solution. Given Zalora's regional position, and MAP's impressive portfolio of leading brands and retailers, we're excited that our technology can play a role in further enhancing their consumers' shopping experiences and we look forward to bringing this exciting service to our customers across the globe in 2020."