Ecommerce stores with endless options overwhelm shoppers.

Customers want a minimal lift when buying products online. But, unlike brick-and-mortar stores, they can't approach sales associates to help them along the way. So, they rely on searchable keywords or images to find what suits them best.

Ecommerce brands are starting to use best-in-class product discovery tools to help shoppers find the right product in a flash. In this article, we explore how six ecommerce brands are leveraging product discovery to create friction-free buying experiences and increase business revenue.
What is product discovery?
Product discovery is the process shoppers go through to find what they're looking. People usually think of text or visual search as ecommerce product discovery tools. You can also use, personalized product recommendations, and inspiration galleries to help buyers surface the right items for them.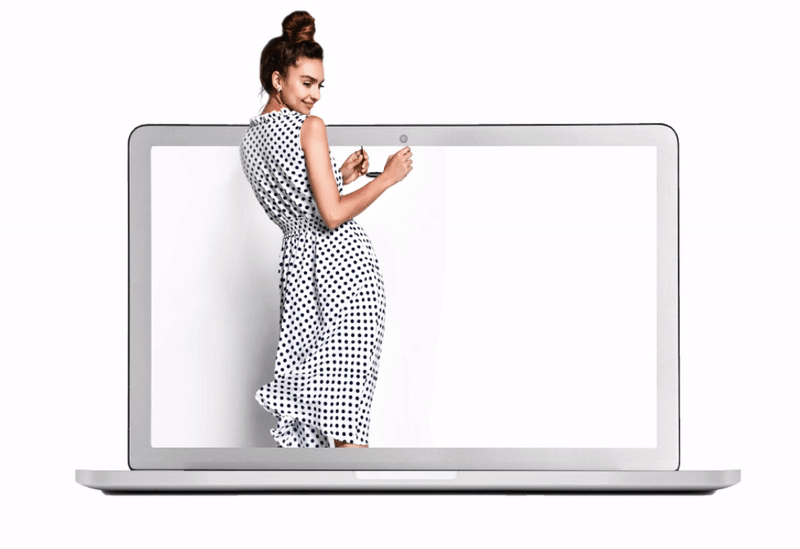 Online shoppers land on your website to buy particular items or browse. A good product discovery journey helps you show the products they are most likely to buy. In short, product discovery solutions are useful for catering to varying purchase intents.
How does optimizing product discovery help your ecommerce business?
Most shoppers know more or less what they want and look for product details to affirm their buying decisions. Now, the pressure is on ecommerce brands to help customers find ideal products as quickly as possible.

A poor product discovery experience negatively impacts conversion, revenue, and someone's decision to return.

Ecommerce brands use product discovery tools to:

Provide a seamless customer journey: and offer delightful and intuitive shopping experiences to boost customer lifetime value (CLTV).
Personalize results: help serve relevant items based on shoppers' tastes, intent, on-site behavior, and past purchase patterns.
Show compatible products: enable brands to engage on-the-fly customers with AI-based smart merchandising rules and increase average order value (AOV).
Make intelligent decisions: analyze shopping trends and better manage inventory to boost business revenue and productivity.
Need some inspiration? Take a look at how these six brands use ecommerce product discovery tools to bloom in this complicated market.
5 Brands doing product discovery to the very best
1. DFS is a leading sofa retailer in the UK and has showrooms across the UK, Spain, Ireland, and the Netherlands.
The problem: Their customers are often shopping for multiple furniture styles instead of a single collection. Limited product suggestions made these customers go back to the catalog to browse items. Some also left the site quickly without making purchases.

This lack of catalog enrichment resulted in steep customer churn. Soon, DFS realized the importance of ecommerce product recommendations and discovery journeys.
The solution: Today, they leverage the ViSenze Discovery Suite to offer AI-powered product recommendations and boost conversion.

The ViSenze recommendation engine helps DFS show dynamic suggestions based on price, color, and product features. DFS uses the ViSeze Discovery Suite to increase online shopping conversions by 10%.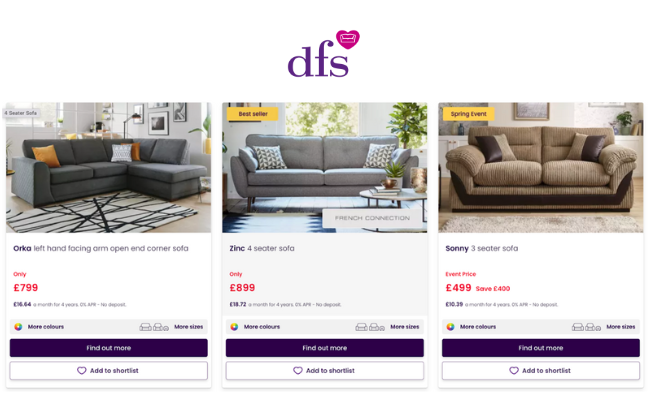 2. Zalora is a leading fashion, beauty, and lifestyle ecommerce site with a strong presence across Malaysia, Hong Kong, Taiwan, Brunei, Singapore, Indonesia, and the Philippines.

The problem: Zalora wanted to streamline how customers discover products on their site. The idea was simple: to enable shoppers to 'shop the look' using images from social media posts, in-store products, and retail catalogs.
This vision led them to search for an ecommerce product discovery platform that uses AI image recognition technology to offer perfect-match or similar items to shoppers.

The solution: Today, Zalora combines ViSenze Smart Search and Smart Recommendations to offer relevant products in a flash and shorten customers' paths to the shopping cart.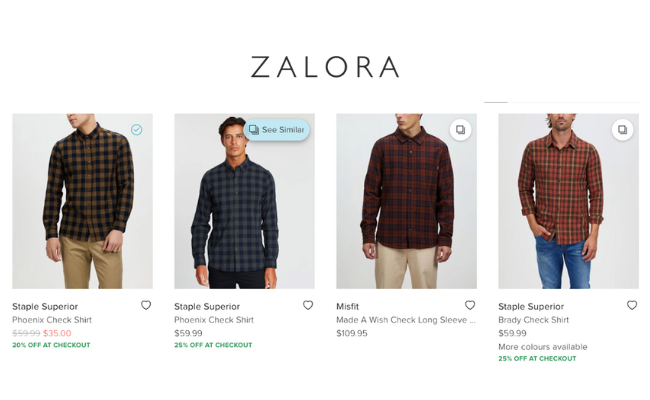 3. Showpo is an Australia-based fashion ecommerce brand that appeals to millennials and Gen-Zers with a community of over four million followers across their social media channels.
The problem: Showpo was finding it increasingly hard to satisfy their young tech-savvy user base. With over 20,000 items, the right item was not being shown to visitors who are most likely to buy them.
The solution: Showpo uses ViSenze Smart Recommendations to instantly curate a collection of Visually Similar items that keep their visitors engaged. This increases the average order value (AOV) hence driving additional revenue. Showpo also realized new opportunities through recommendation analysis. They were able to identify and understand what items were underinvested, should be promoted more, and what items are going to be trending based on fashion attributes.
4. Texas-based EyeBuyDirect is a leading online prescription eyeglass and sunglasses retailer. Their worldwide customer base helps them sell thousands of frames every year.

The problem: EyeBuyDirect's ecommerce product recommendation engine relied on simple technology to offer product matches. Technology inefficiencies affected EyeBuyDirect's ability to cross-sell and upsell to existing and new customers. They saw this situation as an opportunity to boost AOV and maximize the customer journey.

The solution: Today, EyeBuyDirect uses ViSenze Smart Recommendations to deliver relevant results to visitors. Increased customer exposure to similar products increased their revenue by $1.15 million by April, 2021.
Later, the ecommerce platform also launched a Similar Styles Results page with ViSenze and gained 29X ROI.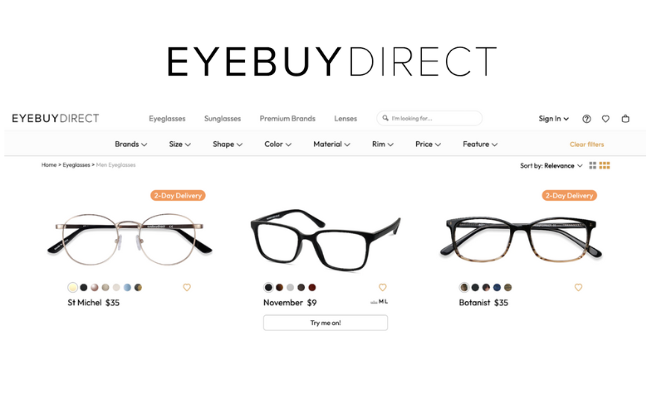 5. Kravet is a home furnishing industry leader with 90+ outlets in the US and Canada. They distribute fabrics, furniture, trimmings, carpets, wall coverings, and accessories.

The problem: Kravet was facing difficulty with database searches while looking for products clients wanted. They were looking for an efficient way to search thousands of product samples in their internal catalog.

The solution: Today, they use ViSenze's Image Search to reduce guesswork and find products at a minimal lift. The database returns similar items once they upload product images. ViSenze's speedy and agile innovation helped Kravet boost employee productivity and efficiency.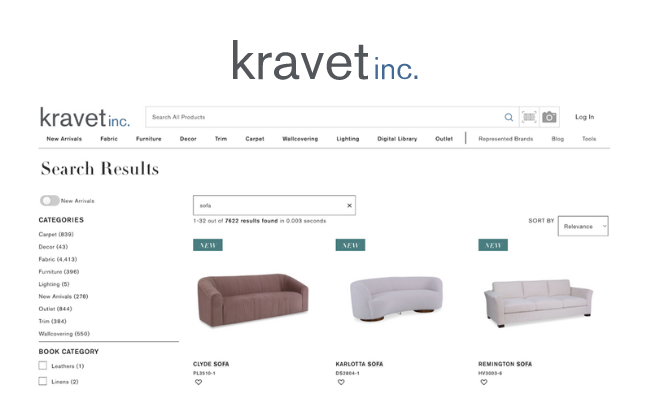 What can you learn from these brands?
These brand stories show how product discovery drives retention, boosts loyalty, and improves conversion. Below are a few best practices to help shoppers find the right items.
Design a search-friendly site: create easy-to-navigate websites to help high-intent search users discover products immediately. Also, consider adding image search capability to your text search bar.
Remove dead ends: Optimize out-of-stock situations to reduce customer frustration. Ensure all error pages lead to a new path for customers to continue their search.
Offer engaging visual merchandising: Leverage product tags to keep visual merchandising accurate and consistent. Also, remember to highlight social proof and contextualize products with user-generated content.
Personalize product discovery: Optimize product discovery experiences with visual AI to pique customers' interests. Consider their preferences, location, and purchase history to surface relevant items during ecommerce site search.
Modern consumers aren't hesitant to switch to a new brand for better value, convenience, and accessibility. So, the pressure is on to create a memorable product discovery journey and offer a seamless experience.
Remember these best practices while optimizing product intelligence, on-site product search functionalities and you should start to see a lift in conversions, returning customers, and bottom-line revenue.
Product Discovery: FAQs
How can you improve product discovery on your ecommerce website?
Here are a few ways to help customers find the right products faster on your ecommerce website.

Offer autocomplete and autosuggestion options within the search bar
Optimize home menu navigation options with search filters and facets
Reduce null result pages and redirect customers to similar items
Show personalized recommendations based on customer data
Focus on long-tail keywords to rank on the search engine results page (SERP)
These steps will help you offer a better product discovery and ecommerce search experience to customers.
What tools can you use for product discovery?
Leading ecommerce brands use these product discovery tools to optimize customer experience on their sites.

ViSenze Product Discovery Suite
Hotjar Heatmaps and recordings
Google Analytics and Tag Manager
Customer surveys and user testing tools
Use these tools to optimize UX and product experience on your ecommerce site.