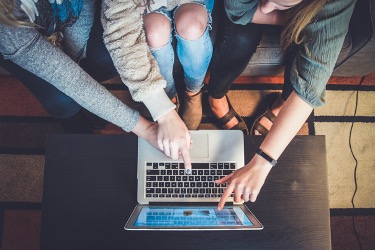 With ecommerce sales increasing steadily all over the world, statistics show the industry is already worth 5.8 trillion U.S. dollars. So, staying ahead of the ecommerce trends and capturing market share is how every brand needs to move forward to remain profitable.
Moreover, customers expect the brands they shop from to meet their expectations, and that becomes especially true during the holiday season when sale signs are up on every virtual storefront. Given these cut-throat market conditions, we studied the top tech trends you should watch out for this holiday season to maximize sales as the year comes to a close.
Let's dive right in!
AI-powered personalization
It's no secret that this year's big revolution in the ecommerce industry has been AI-powered. This cutting-edge technology has allowed brands to deliver tailored experiences to every shopper and gain enormous returns.
Your customers want to feel special every time they shop from you. With artificial intelligence, brands can now achieve this for every step of the journey. We, at ViSenze, have built AI-powered solutions to enable customers to:
Give product recommendations based on powerful AI engines.
Similar – Recommend visually similar items
Look – Recommend shoppable products from the model image
Pairing – Recommend complementary products for the primary item
Inspire – Suggest multiple outfit inspirations
Social – Turn social inspiration into product purchases
Session – Dynamic personalization for the ongoing shopping journey
AI-powered visual search for faster gratification.
AI product tagging, for easier product recognition with higher accuracy.
For example, eyewear brand EyeBuyDirect (EBD) was able to boost their ROI by 29 times by using AI to recommend products based on the individual style choices of their customers. With the help of ViSenze's Smart Recommendations and Discovery Suite solutions, the brand also added over a million dollars to its annual revenue.
Social commerce
As the second trend on our list, social commerce is on every brand's radar today. Accenture's research on the topic revealed that the global social commerce industry is going to be worth $1.2 trillion by 2025. Needless to say, brands are using this trend to promote their products, attract new customers, and offer interactive shopping experiences.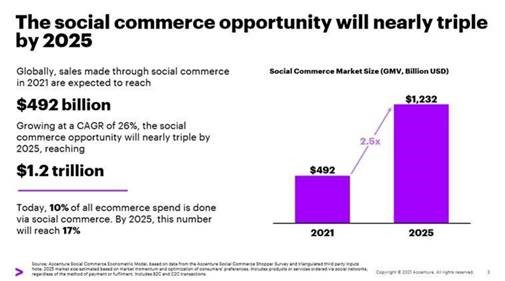 Integrating shopping features for browsing, selecting, and buying on social media platforms enables your customers to make seamless purchases. Combine that with the rise of influencer marketing, and the impact of social commerce becomes evident in boosting conversion rates and overall revenue. More people today buy a product after a recommendation from a friend, or as it turns out, an online influencer. This has led to brands like Stanley being catapulted into the public eye with one viral hashtag.
The best part?
You can recreate this with a strong and trustworthy online presence of your brand on popular platforms like Instagram and TikTok too. In the long run, it also enhances user engagement, fosters brand loyalty, and helps you collect valuable data for your future marketing efforts.
Sustainable shopping
One trend that we see being taken to mainstream media by the consumers themselves is that of sustainable shopping. Accelerated by the COVID-19 pandemic, people all over the world have become more conscious of their choices when purchasing products online. This shift has reached brands, as we see shoppers favor those with minimal environmental impact and ethical production practices.
Sustainable shopping is more than just being eco-friendly, as it includes brand adaptations like:
Reducing carbon footprint
Minimizing waste production
Ethical waste disposal
Transparency in supply chain management
Environment-conscious initiatives
Using recycled and repurposed raw materials, and
Fair labor practices.
When customers started supporting brands that prioritized sustainability, more brands started taking action in this direction and this has led to a wave of positive changes in the ecommerce industry.
India-based fashion ecommerce behemoth, Myntra, also a beloved ViSenze customer, launched 'Myntra for Earth' as a theme store within their site to promote sustainable online shopping throughout the year. The campaign included over 5500 sustainable styles from 70 brands and the brand was praised for this long-standing commitment to promoting better fashion choices.
Augmented Reality (AR) shopping
One of the latest revolutions in online shopping has been the incorporation of augmented reality with retail. AR and VR are cutting-edge technological advancements to help your customers visualize and virtually try their selected products before purchasing them. This online trend has managed to bridge the gap between in-store shopping and online browsing, giving customers the chance to build confidence in their purchasing decisions.
This helps shoppers make informed choices, reducing the likelihood of returns and improving overall brand satisfaction. When brands adopt the latest ecommerce trends like AR on their platforms to help engage customers, they not only witness a growth in conversion rate but also outperform the competition.
Providing virtual try-on experiences for fashion and beauty products also helps you promote complementary products from your inventory to increase the average order value. Makeup brand and retail giant, Sephora, launched its Virtual Artist feature on the mobile app so customers can try hundreds of makeup products according to their skin tone. This not only simplifies the shopping process but also encourages experimentation and creativity.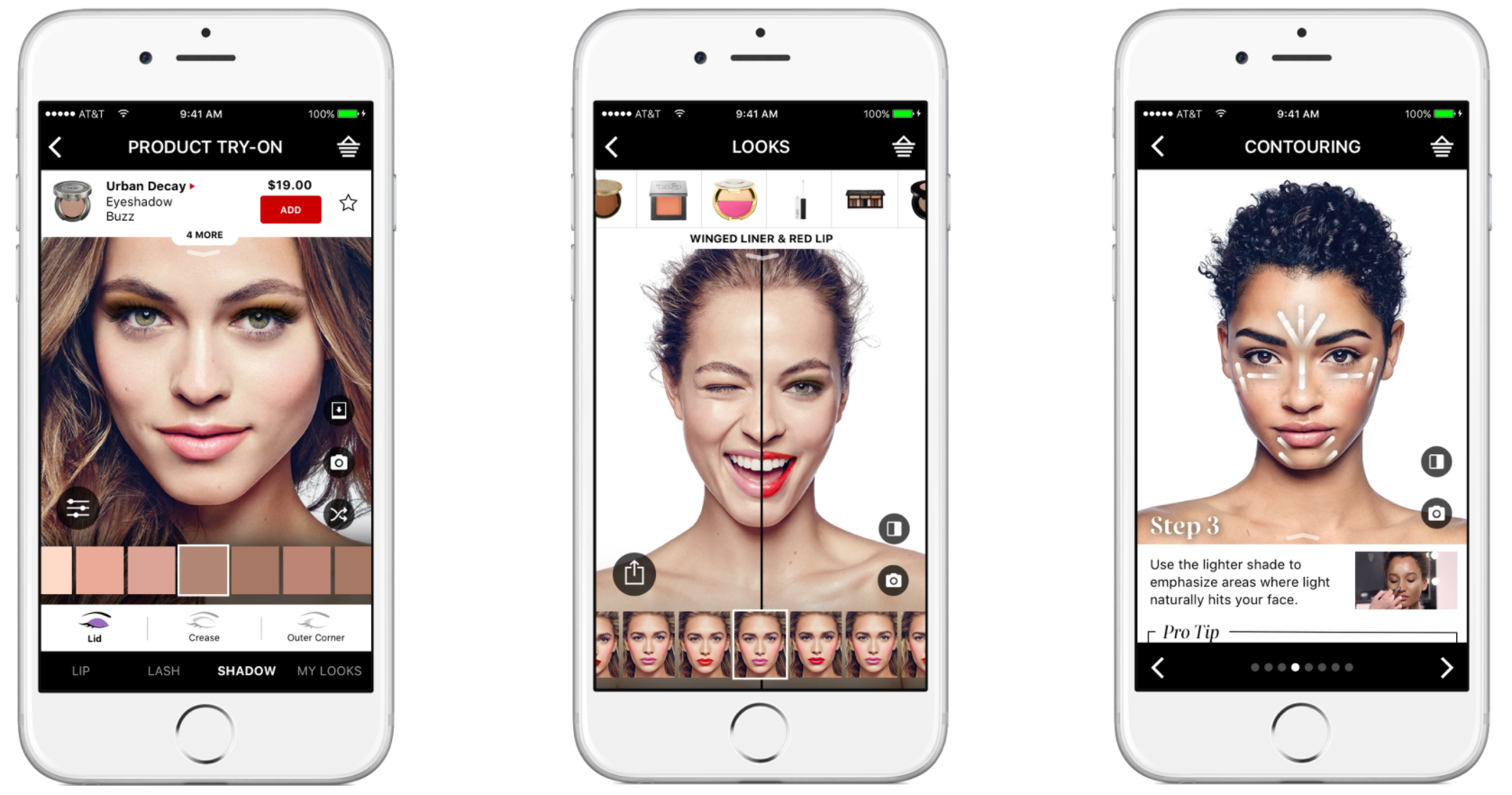 Voice commerce
Voice-activated commands first became famous with the popularity of Apple's SIRI. Since then, Google Assistant and Amazon Alexa have become convenient, hands-free devices that consumers can use to search for products, place orders, and complete transactions using simple voice commands.
The impact of voice commerce is remarkable, especially for specially-abled customers who crave accessible shopping experiences. Using the shopper's profile data, voice commerce also allows brands to benefit from personalized recommendations and seamless transactions. You can foster loyalty, create bonds, and reach a broader audience when you allow customers to make purchases effortlessly.
Not just through assistants, many brand websites now have voice search as an added feature alongside visual search. So, you could say, "Blue dresses for women" and be redirected to the relevant search result display page. This trend has reshaped the way shoppers discover products according to their preferences.
This trend is on the rise, with Amazon Alexa adding voice commerce features for third-party developers. Customers are likely to shop more from brands with this feature, making it worth the investment. During the busy holiday season, we can expect to see the number of brands adapting this to balloon.
Omnichannel experiences
Omnichannel experiences are very niche. However, brands that have adopted them are already seeing positive customer reactions with ease of shopping and added loyalty. Omnichannel experiences are a branding approach that ensures your customers receive consistent shopping experiences wherever they engage with your brand, including your website, mobile app, physical store, and social media profiles.
While this may seem like an optional add-on, presenting your customers with a cohesive and unified experience can go a long way when building your identity and differentiating your brand from the competition. When they know that all your communication channels are seamlessly integrated, your customers can choose to interact with you through their preferred channel while claiming all the personalized benefits and loyalty rewards that they want.
Consistency breeds convenience, and if you can unify your efforts, you can collect data from all touchpoints to offer tailored marketing and customized interactions that invite customers to return.
Livestream shopping
Livestreaming has been around since 1993 on television and since 2008 on YouTube. However, it was China that first combined live streaming with the ecommerce industry to demonstrate to potential customers how useful their brands' products could be and increase sales.
Since then, this real-time shopping has successfully combined entertainment with retail and led to brands collecting millions of dollars. Livestream shopping not only gives every customer an immersive experience but it also is a portal to ask questions and actively engage with the brand. Your viewers can clarify doubts, listen to reviews from trusted hosts or influencers, and purchase the product with a single click of the button.
Notably, this has proven very effective when it comes to generating buzz around new launches. Alibaba's Taobao Live hit $7.5 billion in presales in just 30 minutes for their Singles' Day event, changing the ecommerce retail strategy completely. Since then, the world has been following suit and every brand is hosting live events online to lure customers in and harness the potential of live-stream shopping.

In a nutshell, some ecommerce trends set the precedent for future sale seasons, and these seven are outlining how all brands should move forward to maximize sales in 2023 and beyond. Exploring how they fit in with your brand and implementing them according to your goals will help you stay ahead in the ever-evolving retail landscape.
To get started with AI-powered visual search and recommendations, book a demo with ViSenze today and join the scores of retailers who trust us to drive successful KPIs.