Promoting and selling your product isn't a one-and-done approach. It involves a coordinated strategy that targets customers throughout their time on your website and key pages.
The online experience is paramount to the success of your ecommerce business, and reaching customers at key touchpoints can help facilitate their purchasing decision.
Ready to guide your visitors through an amazing digital shopping experience?
Keep reading to learn:
What are online touchpoints
How to use them to increase conversion rates
The eight key customer touchpoints + brand examples
Let's go!
What are online touchpoints?
Online touchpoints, or customer digital touchpoints, are all the moments in which a customer interacts with your brand in the digital world.
For example, social media, product details pages, and the checkout page are all digital touchpoints—along with many more. Take a look below for a complete view of digital touchpoints.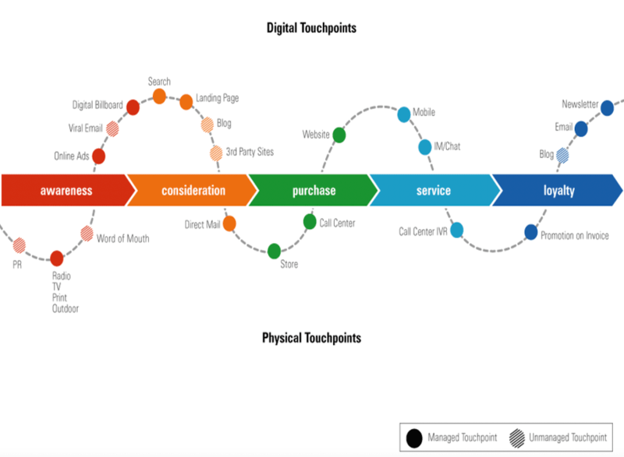 These digital touchpoints can happen before, during, or after a purchase and they define the customer's perception of your brand–and, as such, impact conversions.
How can you use online touchpoints to increase conversions?
Online touchpoints can increase conversions by providing a better overall user experience—whether that's with contextual product recommendations, social commerce capabilities, or 'complete the look' prompts.
Making sure that all touchpoints are well designed and relevant, and provide coherent messaging is key to providing a positive user experience. The exact approach differs depending on where in the buyer journey customers find themselves.
We've got eight top examples from ecommerce brands capitalizing on their online touchpoints to increase conversions. Shall we?
8 key customer touchpoints (and best-in-class brand examples)
Know what you're looking for? Jump ahead to:
Homepage search bar
Product details page
Online influencers
Checkout page
Chatbot, email and SMS
Customer support
Social media
Blog
Customers pass through these online touchpoints before, during, and after purchasing from your ecommerce brand. Let's take a look at some examples of how you can optimize online touchpoints for conversions.
1. Homepage search bar
The search bar is the crux of your ecommerce shop. Without it, shoppers are left unable to find what they're looking for.
However, having a search bar isn't enough—it needs to bring back results relevant to your shopper's ecommerce site search. This is easier said than done, and requires optimized product tagging and recommendations.
Enter: Smart Tagging and Smart Recommendations.
Smart Tagging can help you optimize product tags to make your products more searchable, and Smart Recommendations ensure you're showing the right product at the right time.
For example, Zalora used search and discovery solutions to increase conversions and revenue. This resulted in a higher engagement rate of more than 10% and increased the average order value by 15%.
2. Product details page
The product details page (PDP) is an opportunity to not only showcase the product that caught your shopper's eye, but to also provide other relevant recommendations. Smart recommendations in ecommerce can help you boost conversion by 10%, and increase average revenue per session by 8%.Australian ecommerce brand, Showpo, added a 'Style With' and 'See Similar' to their product detail pages thanks to ViSenze's AI-powered Product Discovery Suite. This helped them drive additional revenue.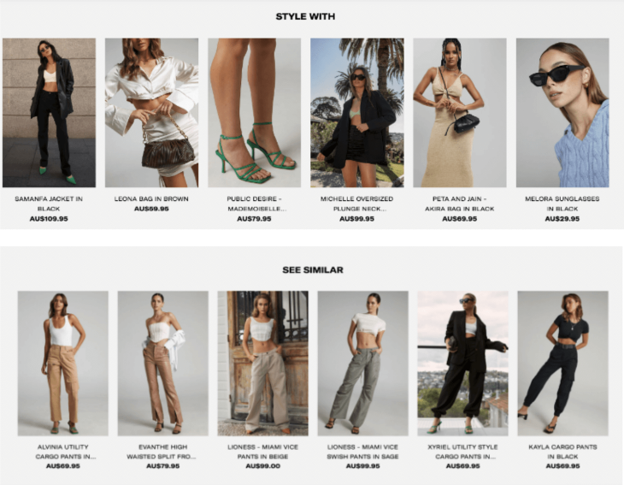 3. Online influencers
Another important way in which you can reach customers is via online influencers. These are people with large online followings—often in a certain niche or industry—that make a living off of brand deals and partnerships.
Influencers offer a key online touchpoint that you can capitalize on. For example, if you run a fashion ecommerce store—you'll likely want to connect with a fashion influencer. Their following is interested in fashion and trusts the influencer when it comes to brands and styles. Getting your product in front of that audience helps increase brand awareness and, ultimately, conversions.An example of using online influencers is the British fitness apparel and accessories brand, Gymshark. It built its whole marketing strategy around influencers, or gymsharks, as they call them–which has proven to be very successful.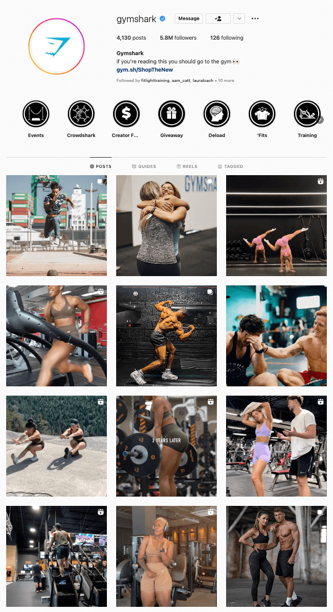 4. Checkout page
18% of people abandon their shopping cart because of an inefficient checkout process. Your checkout page is a crucial touchpoint that can help make sure you're helping customers over the purchasing finish line.
One brand doing this right is ASOS. ASOS knows that to have a good checkout page you just need one thing: to make it simple.
There's no need for flashy branding, complicated language, or too many steps. The quicker you can get the shopper to finish the purchase, the better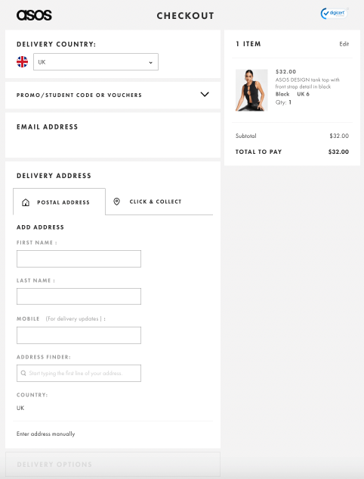 The checkout page is also a great place to show relevant product suggestions, such as 'complete the look' and 'frequently bought together' recommendations. This can help increase order value by showing customers products they're sure to love.
5. Chatbot, email, and SMS
Chatbots, emails, and SMS are some of the ways that users and shoppers can interact with your brand in the most effective and 'human' way possible. They're great for supporting customers through their shopping journey—and not just when customer concerns pop up.
One of the ways that chatbots are used in ecommerce is to aid product discovery. AI-powered computer vision—such as that used in Smart Search—enables shoppers to find what they want using product images. Customers can upload images—from their camera roll, social feeds, and more—and be provided with the product details page or closest match. Chatbot solutions are increasing customer satisfaction and improving productivity through automation.
6. Customer support
Solving any negative experience or helping solve any query from your customers can be an immediate way to increase customer satisfaction and build customer relationships.
Providing excellent customer service helps increase sales and profit, but also helps companies stand out from the competition.
Optimizing customer support focuses on improving the customer experience at a key touchpoint—when something's not gone quite right. It's essential for retaining customers and encouraging repeat buyers—and is an essential part of increasing conversions in your ecommerce business.
For example, Thinx has a returns and exchanges policy that helps the customer feel taken care of–this is great customer support too.

7. Social media
Social media has changed the game for businesses and is currently a key online touchpoint in the buyer lifecycle. It's a great way of increasing brand awareness, and—with the right tech—can increase ecommerce conversion through social commerce.
Optimizing your product catalog for social commerce and enabling visual search are two ways you can make the most of social media in ecommerce. AI-powered ecommerce tools make this a whole lot easier.For example, check out how Yotpo achieved 33% higher efficiency with shoppable UGC.
8. Blog
Last but not least is using your blog to increase ecommerce conversion.
Blogs are a great way to build your thought leadership and educate your audience about the solution or products you're bringing to the table.
Whether you sell shoes, printers, or pre-workout—blogs can help build your brand voice and showcase your knowledge. This positions you as a thought-leader and reliable industry source—increasing your credibility in the eyes of your audience. This, in turn, leads to higher conversion rates and revenue.
One example of maximizing the potential of an online blog is Taylor Stitch. The blog not only promotes its offerings, but also shares interesting, industry-specific resources and insights.
Using AI-powered ecommerce tech, you can also include personalized recommendations on your blog. This—alongside well-placed calls-to-action (CTAs)—helps direct readers to relevant products and leads to increased conversion.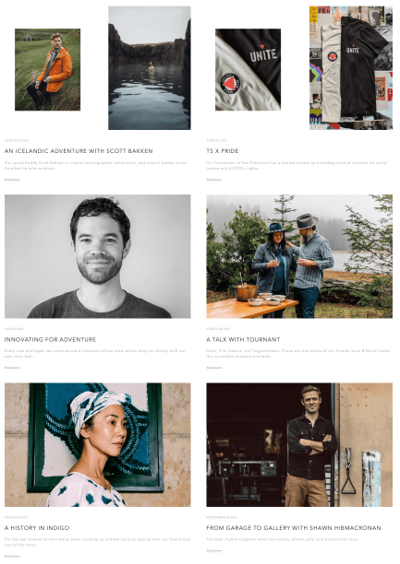 Use online touchpoints to your advantage
Paying attention to how your customers are interacting with your brand, and how you can enhance the user experience can be a game-changer when it comes to conversions. Try ViSenze today to start using AI-powered ecommerce solutions to optimize your online touchpoints for increased conversions.